#10 Critical Things For Vetting Sites For Guest Posts
If you're looking for sites to write guest posts for, there is an array of things to look out for.
Guest blogging can be a little patchy; if done properly, it has the potential to catapult your traffic.
If not, all your efforts may backfire.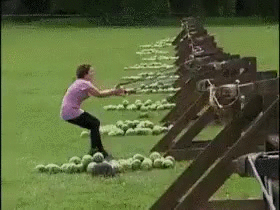 There are a bunch of pre-requisites to keep an eye on to find the most advantageous site. A set minimum DR or DA and minimum RD criteria is an important prerequisite, though this may differ from one niche to another.
For example, you're more likely to find sites with lots of RDs and high DR in the fitness & fashion niches, but might fall short when it comes to niches like immigration or billiards.
On top of your list should be sites that provide numerous in-content dofollow links from their guest posts.
Other prerequisites include sites that offer a lot more information other than links to the author's homepages, and no segregation of guest posts from the rest of the site.
By placing them under a separate group and making them increasingly difficult to discover through their site navigation, the site can affect your traffic, and your viewership may take a big hit.
Here are 10 Key Fundamentals To Look For
#1. Choose Sites with Traffic
The most suitable practice to recognize if a website is valued by Google via access to the site's Search Console, and has not been given a manual penalty is the aggregate of organic traffic that the site receives.

We recommend running a prospective guest post target site through Ahrefs. This link research tool checks its organic traffic numbers. Be sure to try it before deciding to write for any site.
Conversely, there's a mistaken belief surrounding organic traffic. It is believed that more traffic is always better.
As we will understand through the example given below, this is not always true
Suppose there is a site that only publishes papers or research on subjects that don't possess an adequate amount of search volume.
Therefore it has the prospective to generate abundant organic traffic. Despite this, it could still get tons of quality links due to the nature of the content.
The site might not get a lot of organic traffic despite being clean, and contains a number of links.
If that is the situation, it would be perfectly all right to have your guest post published on such a site.
Alternatively, as a result of low-slung commercial possibilities, potentially weaker sites are able to use high-volume, low-competition keywords and acquire more traffic with no trouble.
This tricks many people into believing that the website is a genuinely good one.
#2. Pick Sites without Major Traffic Drops
As revealed through link research tools such as SEMRush and Ahrefs, it is better to avoid sites which might often go through substantial traffic drops.
An outcome of an algorithmic or a manual penalty, it is recommended to keep away from such sites.
There is no harm in writing for these sites, but it is better to not take any chances.
#3. Keep Away from Sites with Doubtful OBLs
Sites with doubtful OBLs should be avoided. No matter how impressive their metrics are, it is recommended to avoid sites that associate with adult, gambling, pharmacy, and other dubious sites.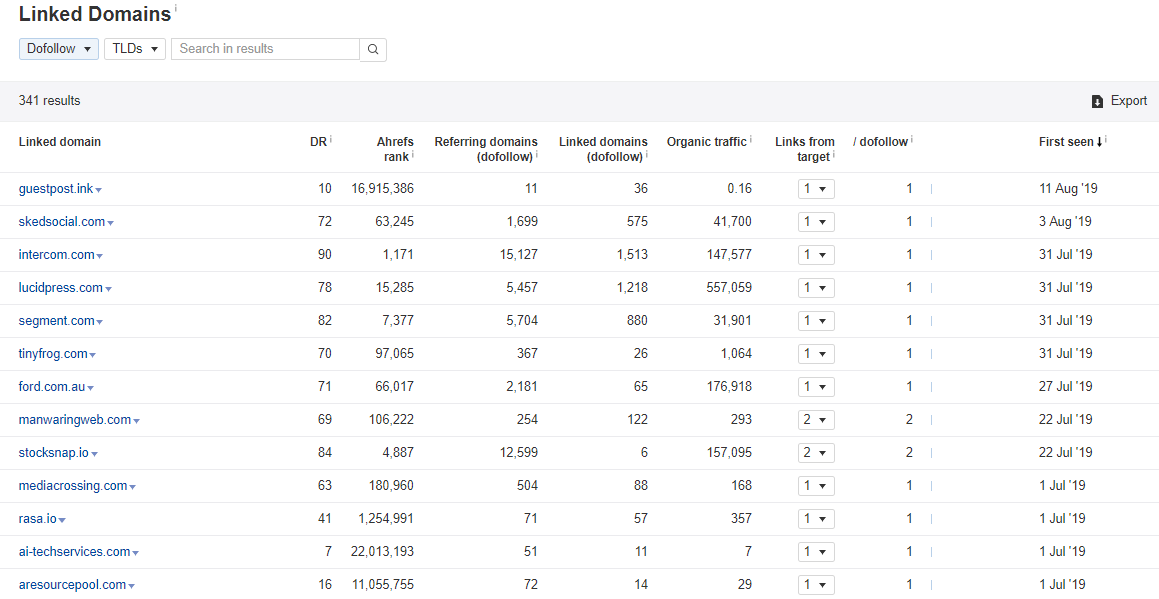 To obtain the latest dofollow linked domains, go to Ahrefs' Site Explorer.
Type the domain into the given space, and click on 'Linked Domains' present under 'Outgoing Links'. Filter the metrics by 'dofollow' and sort them by 'first seen'.
You will be in possession of a list of the latest dofollow linked domains from the site you entered.
#4. Avoid Sites without a Clean Wayback History
A number of sites that are made to sell guest posts are put together on expired domains. The new owners take advantage of the great metrics of the expired domain, and manage to convince potential buyers of the authenticity of the guest posts offered there.
THEN 👇👇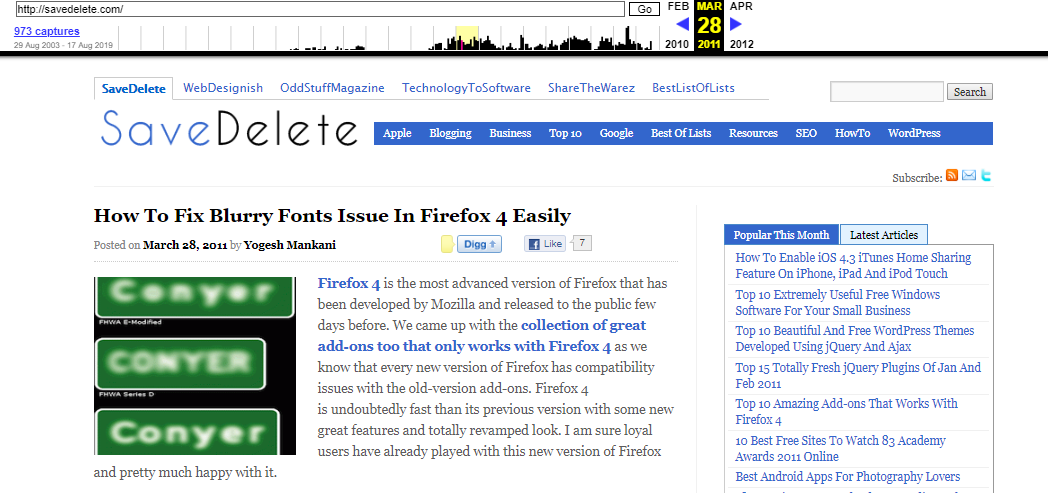 NOW 👇👇
This practice is not unlike registering an expired domain, and then rearranging it as per a PBN site. Consequently, links from such sites are more threatening than is common.
The simplest method to detect expired domains is through Wayback Machine in the Web Archive.
All you need to do is put in the domain there and look through the earliest archives present in the domain. With a little experience, you will easily be able to tell if the domain was initially for some other purpose, and is now being used to sell links.
#5. Analyze the Nature & DF/NF Ratio of Referring Domains
It can look very awe-inspiring from the outside when a number of sites get hundreds or even thousands of RDs. But the real picture comes to light when you take a closer look at the site with a tool like Ahrefs.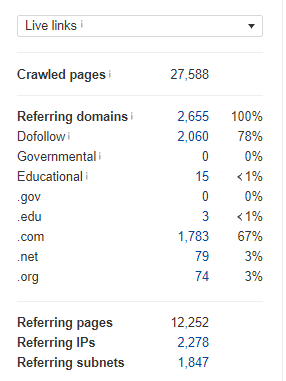 More often than not, a large number of RDs are produced by the bloggers themselves and are nofollow. They do so by leaving comments on other blogs and therefore, obtain a plethora of nofollow links that way.
The standard practice is using the 'name' or 'name @ blog' anchors.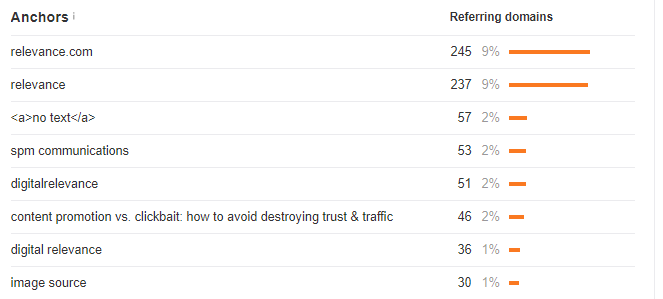 The first thing you need to look in your preferred site, is the percentage of RDs that are dofollow.
It is recommended to avoid the sites with dofollow below 50 percent. Most authentic sites have more than 80 percent dofollow.
Another thing to keep in mind is to have a basic idea about the nature, source and quality of the links provided.
To do so, just go through a few of the given links randomly.
#6. Go for Sites with a Low Percentage of Guest Posts
Make sure that the majority of posts on the concerned site are not guest posts, scroll through the latest posts of the site, and make certain that about 80% or higher of them are original posts.
Another thing to keep in mind is to ascertain that most of the posts diligently follow the main topic of the site.
Usually on mediocre sites like these, common guest posts are not completely relevant to the main topics. The main theme that the guest post is hosting is not taken into account.
Suppose that the concerned site is in the fitness niche, and you notice a number of posts that are not relevant to the niche, and oftentimes couple an entirely different niche together with fitness such as fitness and art, fitness and music, fitness and outdoors, among others, that's a big red flag.
#7. Multi-Niche Check
Open the site and peruse it carefully. If you feel like it uses a common, cheap, or even free theme, or if it has an array of useless menu links, it is best to avoid such sites. It is recommended to stay away from sites which cover a large number of niches.
#8) Majority Traffic Location
It's not typical to have a large number of links from sites whose primary traffic region is India, Bangladesh, Philippines, Sri Lanka, among others, and not from the region targeted by your own website.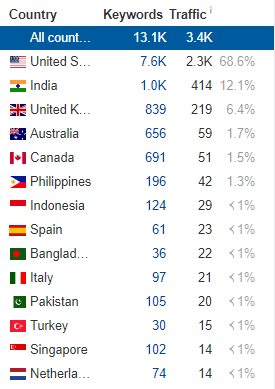 English speaking countries whose native language is not English, have an infamous reputation when it comes to the paid links world.
If you are wondering how you are going to figure out the percentage of traffic by country, then look no further than Ahrefs.
#9. Sponsored Post Labeling
If you are paying for guest posts, it is recommended to stay away from sites that make no effort to hide the fact that you paid for the post, and as it is a blatant violation of Google's webmaster guidelines to pay for links, making it obvious is a bad idea. Keep an eye out for sites that uses labels such as "sponsored post" or "paid collaboration".
#10. Attract Natural Backlinks
This one isn't totally essential, and whether or not you'll use this as a filter completely relies on the lowest quality boundary that you've assigned for your guest posting campaign.
Basically, check if enough posts on a site are getting completely natural, dofollow backlinks (they should be getting these on their own, even though you don't really have a way of knowing which are purely organic and which were acquired through outreach).
Again, Ahrefs Site Explorer is the best and easiest way of doing this. You will need to set it to 'best by links under 'pages'. Setting the HTTP code to '200 OK will only show live and non-redirected pages and arrange the results by the amount of referring domains.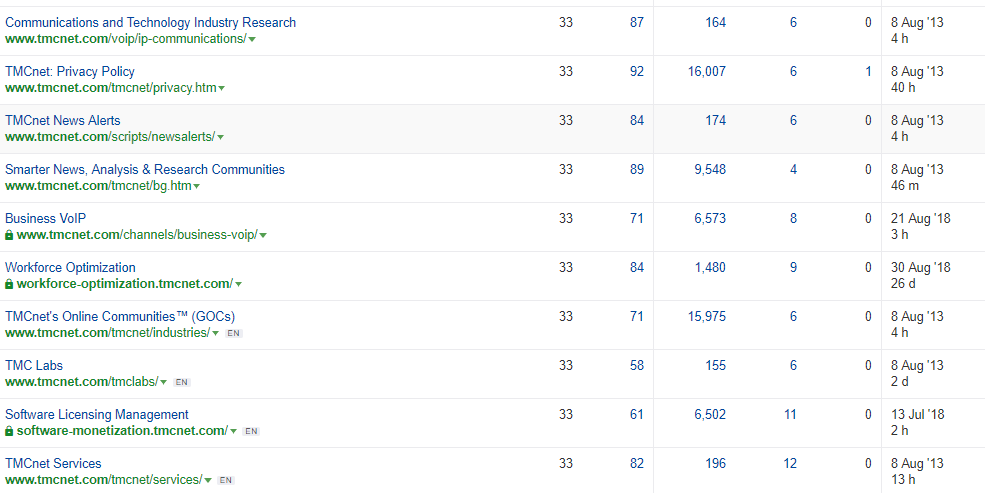 As mentioned before, this is not completely necessary, but guest posting on sites like these will guarantee that your guest posts will receive some links (which can be considered as tier 2 links) and thus more and more link juice will get through to your linked pages.
The Takeaways:
It is clear from the given points that vetting sites is a much more crucial practice than searching for guest posting targets.
The complete guest posting process involves a considerable amount of time and money.
It is essential to make certain that none of it goes to waste.
After browsing and compiling a list of carefully vetted targets, don't forget to provide the best high-quality content.
This is vital as it can result in higher viewership of your guest posts, and increase the number of links directed to those guest posts, which will then result in an increase in link juice flowing to your own site.